Capital Campaign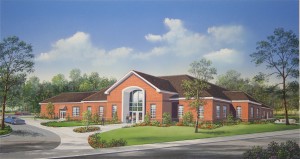 Click below for:
Building image
Floor plan
Frequently asked questions
What people are saying
Since 1943, the Hollidaysburg Area Public Library has helped area residents of all ages form and transform their lives. A new facility will allow us to provide high-quality, essential services for information, education, communication and gathering. The building plan needs leadership and support from individuals and organizations who care about the quality of life in the Hollidaysburg Area. It needs you.
Total Project Cost

xxxxx

$

2,829,185

Project Expenses to Date

xxxxx

$

513,400

Remaining Project Cost

xxxxx

$

2,315,785

Project Funds Available

xxxxx

$

1,925,000

Remaining Funds Needed

xxxxx

$


390,785
To learn more, please select from the following links:
The need for a new facility
The plan for the new facility
The benefits of an expanded library
Please call or visit the Library today to see how you can contribute.
The Need for a New Facility
Our library has experienced tremendous growth. Since 2004, circulation has increased 53% (children's up 25%; adult 47%); program participation 33% and public computer use 161%. Our service area and circulation rank second in the eight-member Blair County Library System, behind only the Altoona Area Public Library. Our program attendance also ranks second, yet our building's size ranks fifth. If we are enriching lives to this degree with little room and an outdated facility, imagine what can happen in a modern, spacious facility.
We continue to grow, and our building is too small to serve current and future needs. In 2000, our Board, with the assistance of a library building consultant and architect, considered expanding and remodeling the current building. Given the limited size of the current lot, an addition of 2,500 square feet could house an elevator and update handicapped accessibility (our current facility is not ADA-compliant) but would provide little new space for materials, services or programs. We would lose parking spaces and rule out further expansion.
The Building Committee and Board carefully considered dozens of options involving renovating buildings or purchasing land for a new facility. We evaluated these options according to many criteria, including patron accessibility, ability to meet current needs and allow for possible future expansion, and estimated costs. With past funds designated for capital projects, we purchased property at One Furnace Road, Hollidaysburg near the Senior High School to build a new library.
The Plan for the New Facility
• A collection of over 50,000 books, audio books, movies, and periodicals
• Quiet reading and study areas for adults, teens and children
• Space for community meetings, classes, clubs and other events
• Enhanced technological tools: computers, the Internet, software for productivity and creativity, projection equipment and more
• A bright, inviting children's area with natural light, comfortable, child-sized furniture and shelving, story-time space, an art center, play area, and cozy reading corners
• An inviting space for teens and young adults
• 28 parking spots, including 4 disabled spots, and the potential for nearby overflow
• 75% more space than the current building for Family Place workshops, Library programs, Friends of the Library events, and basic library functions such as receiving, processing, and cataloging books
The Benefits of the New Facility
Expands the Horizons of our Children
A library's positive impact on children is well-documented. Studies by the American Library Association have found that the highest-achieving students attend schools with good libraries and have ready access to public libraries, regardless of the community's income level or the educational background adults in the community. Libraries offer a wealth of books, computers and other resources that give every child a head start on life and learning. Librarians introduce children to a bigger world.
Parents and caregivers who bring children to our programs make use of the Library. Circulation is highest on "story time" days. Our Children's Department is where our youngest are introduced to the wonders of books and library activities. We have a comprehensive program to serve children from pre-school to adolescence. Our new location next to the High School and close to the Junior High and other schools lends itself to after-school use. We expect steady student traffic coming to use expanded reference materials for homework assignments. Our staff will work with teachers and school administrators in selecting materials that complement school curricula.
A Vital Resource for This Information Age
A public library is the information center for a community and its citizens—a central locale that provides resources that are free and accessible to people of all different walks of life. An expanded facility will enhance our Library's ability to provide patrons with free information such as voter registration applications, local rental/real estate information, county office directories, activities brochures, catalogs from vocational schools, colleges and universities, newspapers from major cities, history-related files, maps, guide books, and much more.
The new world of searching for information can be difficult for those not involved with computers daily. Library computers are the point of entry to technology for many people. Along with providing books for recreation and education, the Hollidaysburg Area Public Library serves as a guide, meeting specific information requests and solving information problems. In this day of technological advances, our role as a community resource is expanding. While we will continue to be a good source to find a variety of books to read, the new library facility with more and enhanced technological tools will enable us to grow as a gateway, guide and educator.
Community Programs Make a Difference
No longer does a library simply store and dispense books. Today civic, educational, and cultural programs offered at our Library provide the community with a center for enlightenment and relaxation. The Library opens the door for civic discourse for sharing ideas, opinions and values.
Programming is an important and integral part of a modern library. Programs complement and promote collections, stimulate circulation, and attract both non-users and patrons. Programs serve a vital role in educating the community, enriching all ages by introducing them to literature, history, the arts, technology and much more. The Hollidaysburg Area Public Library is well-known for its programs for patrons of all ages.
With a new facility, we will be able to expand our library programs. We aspire to serve as a center of discovery and communication—a place where people gather and where information comes alive through teaching and personal interaction. In addition to our own programs, we will provide room for other area civic, cultural, and educational organizations to meet and further their own purposes and endeavors.
Stimulation of Regional Economic Growth
The changing role of libraries—from passive recreational reading to research institutions to active economic development agents—is documented in a study by the Urban Libraries Council, Making Cities Stronger: Public Library Contributions to Economic Development 2007. Like other public libraries, the Hollidaysburg Area Public Library promotes literacy and learning, which strengthen our community. Our state-of-the-art facility with a strong computer program and technological amenities will be a vital resource for training and support. Literacy is linked to basic job skills that will help our region stay competitive in both labor and management. A major purpose of a library is to address such issues as workforce training, small-business vitality and quality of community life. Our expanded facility will offer the space and tools to let us work more effectively with state and local agencies on business development and job training.