Youth & Children's Services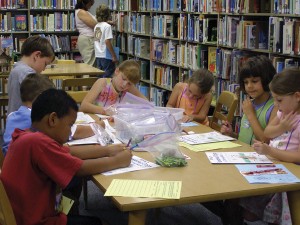 The area for children and youth is downstairs. Melanie Ramsey (Miss Melanie) is the director. Contact her at the Library (695-5961) or click her to email her.
Click here for a calendar of events in the Children's Room.
___________________________________________________________
Children's Collection
The Children's Room, located downstairs, offers storybooks, board books, fiction and nonfiction books, audiobooks, family videos, and storybooks with audiotapes.
Story Time
Story Time is held throughout the school year. It is free and open to all who are interested. Children must be able to sit and listen quietly, and must be accompanied by an adult. For information about the next scheduled Story Time, please click here.
Mothers and More
Mothers & More is a non-profit organization dedicated to improving the lives of mothers through support, education and advocacy. We address mothers' needs as individuals and members of society, and promote the value of all the work mothers do. Whether you are a stay at home mom, a working mom, or somewhere in between, Mothers & More is for YOU! We offer playdates, crafts, cooking groups, Moms-only events, family events, couples nights out, community service projects and MORE! Please contact Shelly (sls334@gmail.com) or Kim (kimus13@gmail.com) for more information and a calendar of upcoming events!
MOMS Club of Hollidaysburg/Altoona
MOMS Club of Hollidaysburg/Altoona is a non-profit support group that provides friendship and encouragement for mothers who choose to stay home to raise their child(ren). MOMS Club coordinates a variety of activities that gives our members a unique opportunity to interact and share new experiences with their child(ren) while developing friendships with other moms in similar circumstances. These activities include Moms night out, family events, business meetings with guest speakers, couples night out, and service projects. We also focus our efforts on enriching the lives of our children through field trips, arts and crafts, play dates, and intergenerational events. For more information please contact Leah Kraft via email at membership@momsclubofaltoona.com.
Tips for parents and guardians for building reading skills
Take your child to the public library. Help your child get a library card. Find out if there are any special programs or reading clubs at your library. Ask the children's librarian to recommend a good book for your child.
After watching a TV show, get a book on that topic.
Give your child books as gifts. Encourage your child to give books as gifts.
Take books along when you go to doctors' offices, on car trips, and on vacations.
Show your child that you like to read.
Read aloud to your child. Children enjoy hearing the same story many times.
Provide a special shelf or box for your child to store books.
After reading a story to your child, discuss the story. Ask your child to make up another good title for it. Ask your child to tell you what happened at the beginning, middle, and end of the story.
Encourage your child to make books. These books can be storybooks or scrapbooks with pictures such as animals.
Suggest that your child create bookmarks using pictures cut from greeting cards and magazines mounted on cardboard and decorated with yarn or scraps of cloth.
Set aside a special time to read every day.