Hat Hat
Overall Project
The HAT HAT Community Mascot Project has the goal of creating a mascot in an 8-foot-tall inflated costume who will be available for community functions at no charge. Residents of the Hollidaysburg Area (the school district) will be able to arrange through the Hollidaysburg Area Public Library to have this mascot as a fun, entertaining presence at festivals, dinners, parties, parades, competitions and other community events.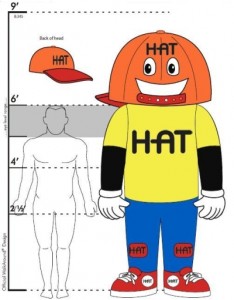 Image used with permission of Signs & Shapes International
HAT HAT is the mascot's name. His head is an oversized backwards ball cap with H-A-T on front and back. His shirt, knee patches and sneakers have the same HAT lettering. HAT HAT is fun in himself, but H-A-T also stands for "Hollidaysburg Area Together," because collaboration by many children and adults will create this mascot who celebrates neighborly cooperation and community spirit.
HAT HAT's costume will come from the same company that outfits Zooperstars characters who appear at Altoona Curve games. An inflated costume offers comfort and easy maintenance—compared to furry costumes, which can be hot and heavy. Also, the costume's broad back will carry the printed names of donors to the project, like a mobile donor wall. The goal is 500 donors at $10 each to cover the cost of the costume and completing the project.
During fundraising, HAT HAT will appear in his starter costume, which includes a homemade fiberglass head and clothes with the HAT HAT design. In this costume, Hat Hat is six feet tall or shorter, but it gives an idea of how he will look later in his inflated costume. Watch YouTube for HAT HAT to start appearing in his starter costume. The starter HAT HAT and an assistant are available now for community events.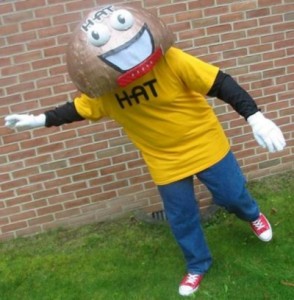 To invite HAT HAT to your event, ask questions about the project or donate, visit the Library at 405 Clark Street, Hollidaysburg, call the Library at 695-5961 or email.
Waving Project
HAT HAT was officially introduced to the Hollidaysburg Area with a project called 30 Days of HAT HAT, designed to get hundreds of people smiling and talking. October 1-30, 2009, at 6 pm, one or more HAT HAT Helpers—local children between the ages of 5 and 12—joined HAT HAT to wave at traffic for 10 minutes in a highly visible and safe location, the parking lot of the Hollidaysburg Church of the Brethren. Each HAT HAT Helper was dressed in his or her own official HAT Hat and HAT shirt.
This simple plan was bigger than it sounds. It added up to 5 hours of smiling and waving that lifted the spirits of those passing by, plus others who hear about it. It helped spread the word about HAT HAT and fundraising for his inflated costume. It will lead to other HAT HAT events and more HAT HAT Helpers. The fun of 30 Days of HAT HAT is captured in the video below:
Appearances